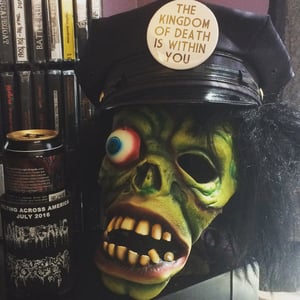 $

777.77
OLD SITE....
WWW.DEATHWOUND.COM FOR NEW WEBSTORE!
UPDATES:
6/9/17
All copies of Morbid Tales II has shipped! Up next...
UP NEXT:
*Jenzeits - Jenzeits Cosmic Universe tape:
comes with download code, https://jenzeits.bandcamp.com/releases/ Out in July
*Death Wound Mystery Issue - You send me four dollars, I send you a surprise zine. Pro-printed, for cryptozoology freaks and fans of some of Seattle's best rotting, stinking death metal... / Out in July
*The Kingdom of Death Is Within You - Illustrations by Karina Monzon and Andrew Wesley Bennet, words by Wm. C:
A visual and written reflection on the human corpse, crucifixion and the sanctity of death through ritual sacrifice. For fans of Georges Bataille, Gilles Deleuze, Impteigo (the band) and mind melting illustration. Limited edition book, pro printed. / Out in August
*Insanitation by Daniel J. Ducas - A hilarious and witty screenplay that had me hooked all the way through, think Joe Spinell in Maniac if he spent his life wasting away in the post-industrial wastelands of Central Mass. Limited edition. / Out in August
*SCAM - The Story of Seraphic Decay Records: One day, I'll finish it. Slowly, but surely.../ Out in 2040
----
WHOLESALE AVAILABLE:
5/15/17
Morbid Tales II has been approved, but still waiting on the printer to finish the job. Thank you for your patience! Look for not only a pre-order surprise, but a nice coupon as well!
5/7/17
Morbid Tales II is finally in queue at printer, hope to have this shipped out in a week. Thank you all for your patience! Volume II reprints start shipping Wednesday...
JENZEITS COSMIC UNIVERSE tape (Chad Davis) in production now. Limited to 200 copies, comes with a digital download code. Should be out at the start of June.
https://jenzeits.bandcamp.com/releases
4/19/17
Morbid Tales II is at the printer after an issue with first file. Thanks for your patience, it looks amazing and is a fantastic read.
WHOLESALE:
Currently in stock...
Conspiracy issue - $4 wholesale / $7.50 retail
Morbid Tales II - $7 wholesale / $13-14 retail
Missionary Work LP - $9 wholesale / $15-16 retail
CONTACT:
Email: deathwoundzine@gmail.com
Facebook: Death Wound Zine
Instagram: @deathwound